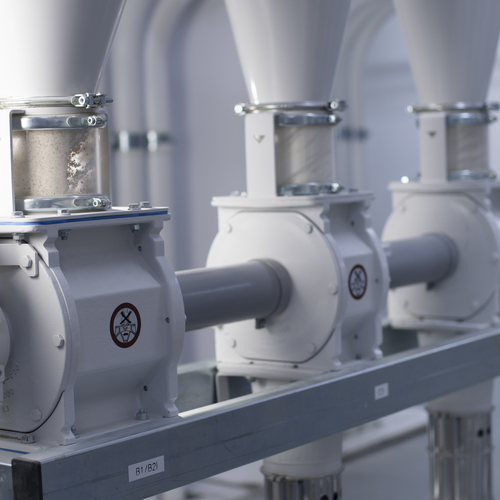 About
The Mill
The Red Sea Mill Co. (Ayla Mill) is a leading company in the field of grain milling and flour production, it was established in Aqaba governorate in southern Jordan in 2019. Ayla Mill is the only grain mill in the Red Sea Region and serves all the governorates of southern Jordan and neighboring markets with their needs of wheat flour. Ayla Mill has a daily production capacity of 240 tons, due to its strategic location near the seaport, and its ability to easily import and receive grains, the Ayla Mill has collaborated with Spanish Symaga to install two storage silos of a total capacity of 10,000 tons. This strategic location will also facilitate the export of flour to many neighboring countries of the Arabian Gulf and the region, which will make a strong contribution to the region's food security, within a radius of 100km from its location, Ayla Mill will be able to serve a market of about one million people in 3 countries, with a monthly need for flour at a rate of 10,000 tons, which can be easily land shipped on a daily basis.
Mill's Products and Equipment
Ayla Mill produces a variety of flour types including unified flour used for Arabic bread, Zero flour, Zahra flour, tortilla bread flour, and more in addition to other milling by products like semolina, bran and pollard. Products are sold in bulk or bagged in different sizes; and are distributed daily by the mill's distribution fleet. The mill is equipped with the latest Bühler equipment and digital technologies that enable it to operate efficiently and with minimum errors, it is fully automated relying on Bühler Mercury automation system. It is also the first mill in Jordan to use the Bühler Insights, a platform for connecting products and services to optimize plant efficiency, in which data points are fitted throughout the production process feeding data to Bühler's Manufacturing Execution System (MES), which integrates all processes to enable control over every stage of production. Bühler Insights will also enable Al-Hazaa Group to monitor Ayla Mill's performance and yield remotely from anywhere and in real time.
Unique Establishment to Suit the Surroundings
What makes the Ayla Mill so unique, is its ability to provide many different types of flour to its customers, the mill has a perfect cleaning section that is able to clean and process a great variety of grains types and sizes coming from diverse origins, which helps in extracting flour of different grades yet of consistent and optimal grist. The flourishing environment around the Ayla Mill, will also enhance its importance in supplying high quality flour to the region of the Red Sea, taking into consideration the Saudi construction of a new city that will link Saudi Arabia, Jordan, and Egypt, the new city Neom will be several kilometers away from Aqaba and will require high quality products that Ayla Mill can easily supply thanks to its state-of-the-art construction and top technologies implemented.
High Quality Production
Ayla Mill follows international quality standards, it installed a modern quality control laboratory that was supplied by PerkinElmer and Chopin to test the quality of grains, flour and baked goods to ensure consistent quality products that meet the standards of Al-Hazaa Group and the requirements of its customers.
Gallery