Al-Hazaa Group: A milling giant in the Middle East (Miller Magazine)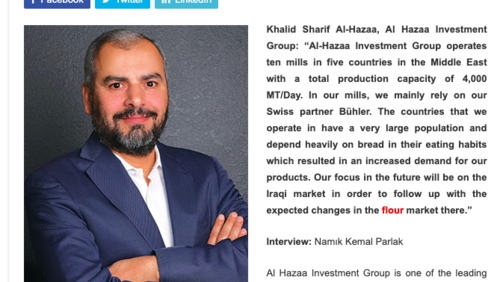 Khalid Sharif Al-Hazaa, Al Hazaa Investment Group: "Al-Hazaa Investment Group operates ten mills in five countries in the Middle East with a total production capacity of 4,000 MT/Day. In our mills, we mainly rely on our Swiss partner Bühler. The countries that we operate in have a very large population and depend heavily on bread in their eating habits which resulted in an increased demand for our products. Our focus in the future will be on the Iraqi market in order to follow up with the expected changes in the flour market there."
Interview: Namık Kemal Parlak
Al Hazaa Investment Group is one of the leading business groups in the grain milling in the Middle East. The group has also other investments in the plastic industry, pasta production, and renewable energy sector. Starting with one mill in Iraq in the early 1940s, the group has become the regional pioneer in the milling industry with its 10 mills in 5 countries. The milling capacity of all mills is 4,000 MT per day.
Speaking to Miller Magazine, Khalid Sharif al-Hazaa, General Manager of the Al-Hazaa Group defines the company as 'one of the most dynamic and successful family groups in the region.'
"The countries that we operate in have a very large population and depend heavily on bread in their eating habits which resulted in an increased demand for our products," he says. Mr. Al Hazaa also focuses their commitment to create sustainable and eco-friendly production and points out that to become the first investment group that fully rely on solar energy in its milling facilities.
Here are Mr. Khalid Sharif al-Hazaa's answers to our questions:
The Al-Hazaa Group started a flour mill in Iraq in the early 1940's and transformed into one of the most preferred suppliers in the region. Could you tell us how Al-Hazaa Investment Group has come to its current position? Can you tell us about your corporate story?
Al-Hazaa Investment Group (www.alhazaagroup.com) is one of the largest investment groups in the region that operates in the fields of grain milling, grain storage, animal feed, noodles and pasta production and in the plastic industry. Al-Hazaa Investment Group is a family group that was founded in early 1940's, its first project was a flour mill in Iraq. The Group has ever since continuously evolved and has as a result consolidated its presence and reputation in the region as one of the most dynamic and successful family groups. It now operates and owns ten mills in five countries in the Middle East, Iraq, Jordan, Egypt, the United Arab Emirates and Cyprus, with a total production capacity of 4,000 MT/Day.
As mentioned, Al-Hazaa Investment Group doesn't only operate in the milling industry but also owns several other complementary projects that either support its flour milling business or depend on the flour produced, such as plastic factories, pasta and noodles factories, other feed and grain milling and storage plants. One of those projects is the New Plastic Industrial Co. that started its operation in 2006 in Jordan, it is a plastic factory that supports the group's mills by providing them with the requested bags for packing. The factory produces 150 million bags every year, it offers plastic and woven polypropylene bags for packing flour, rice, sugar, legumes and cement. Products are sold in the Jordanian market and are exported to neighboring markets as well, such as the Iraqi and Lebanese markets.
The family group is now managed by its second-generation member, Mr. Jamal Al-Hazaa. The group has witnessed significant improvements when CEO Mr. Jamal took over the group's management, the group has expanded its business and has been present in other countries outside Iraq.
Al Hazaa Investment Group which is now one of the leading companies in in the region is built on solid foundations in order to deliver consistent products and services that meet the highest standards of quality and innovation. Ever since the establishment of Al-Hazaa Investment Group, it focused on investing in the latest technologies and in training its personnel. It is the main goal of Al-Hazaa Group to train its workers. Training is mostly done in cooperation with the Swiss company Bühler which is one of the leading companies in the field of flour milling and food safety. Al-Hazaa workers are trained in the Bühler's training center in Uzwil, Switzerland and in the Swiss Milling School. Moreover, we send trainees from our companies every year to take courses in the African Milling School, which is Bühler's milling school in Kenya, since its establishment.
The countries that we operate in have a very large population and depend heavily on bread in their eating habits which resulted in an increased demand for our products.
Al-Hazaa Group operates in 5 countries. How many mills do you have all over the region and where are they located? How many people do you employ?
We have started from only one mill in Iraq in the early 1940s but throughout our presence in the market for more than 70 years, we now manage 10 mills in 5 countries, Iraq, Jordan, Egypt, UAE and Cyprus. 9 of the mills are wheat flour mills while the 10th one is a maize mill. The maize mill is located in Jordan and is the only maize mill in the country, it started operation in 2018 with a production capacity of 200 ton/ day. It provides the Jordanian market and other neighboring markets with their need of fine and coarse maize grits and gluten free maize flour. We employ in our mills and factories about 2,800 workers around the five countries.
STRATEGIC PARTNERSHIP WITH BÜHLER
Can you give us some information about your milling capacity and technologies you use?
The milling capacity of all 10 mills is 4,000 MT per day. In our mills we mainly rely on our Swiss partner, Bühler which provides us with the latest technologies and innovative machinery required for operating our mills and to maintain best quality possible. Through Bühler we train our employees and make sure to follow the latest milling trends.
Al-Hazaa Group is the agent of Bühler in the Iraqi market. We have been working with Bühler for so long and we are really satisfied with this partnership. Bühler provides innovative milling solutions that ensure the safety and quality of the grain while maintaining high sustainability and efficiency. And working with Bühler has allowed us to gain even more experience in the milling field, we always try new innovative Bühler machines that offer various advantages to our mills.
Since we operate in several countries we have gained the necessary market know-hows that have definitely increased our experience by time.
Which kind of products do you produce? What are your best-known brands?
Our products vary depending on the country. We produce for instance flour for Iraqi bread (Samoon), flour for the Arabic bread and premium flour for bakery and pastry uses. We also have suitable flour for biscuits and the healthy gluten-free maize flour, in addition to producing semolina, pasta flour, noodles flour and pizza flour.
Our products are sold under different brand names again depending on the country and the producing mill, some of our brands: Al-Jamal, Al-Tahuna, Al-Asfar, El-Moatamayez, Al-Shams.
Our brands for pasta and noodles are: Pasta mama and Noodi.
Where do you import wheat for flour?
Al-Hazaa Investment Group has a policy for importing wheat, which is to import from big well-known suppliers such as Cargill, Louis Dreyfus, Bunge, CHS, etc. The wheat comes from different origins, depending on the wheat quality and price, these origins include: Australia, Canada, USA and the Black Sea region.
Where do you export your products?
Our main markets are the Middle Eastern markets. We export to countries like Iraq, Saudi Arabia, Syria, Yemen, Angola and Djibouti.
What are major challenges you face today?
Some of the major challenges that we face in today's world are the fluctuating wheat prices, the strong competition led by big flour exporters especially the Turkish exporters and the unstable political situation in the region.
You have a dynamic, visionary investment perspective. Could you tell about your investments and future projects in milling industry?
Our focus in the future will be on the Iraqi market in order to follow up with the expected changes in the flour market there. It is expected that the bread subsidies will be removed in Iraq which will free the market.
What are your future targets in your operating market?
To constantly improve our business and mills and provide continuous technical support for our employees to reach our goal in satisfying our customers' needs and provide them with high quality products at competitive prices. Moreover, it is also important for us to properly prepare the third-generation members to be ready to join the family group and add their distinctive touch.
EGYPT IS ONE OF THE PROMISING MARKETS
Could you tell us flour consumption patterns in the Egypt? Is there any change in the eating habits in recent years?
The Egyptian market is a large market for wheat flour. It has a high demand for flour which is increasing annually and in a continuous manner. Egypt is one of the big importers of wheat in the world. Therefore, Al-Hazaa Investment Group took this opportunity to build one of its largest milling facilities in Egypt, Al-Taj Mll 1, which was built in 2005, then the Group expanded this facility in 2019 and increased its production capacity to reach 1280 MT/ day through building a second mill, Al-Taj Mill 2. Al-Taj Mill 1 and Al-Taj Mill 2 were, as with all of our other mills, fully installed with the latest Bühler machines. Our mills are fully automatic, from the first step of receiving the grain until producing the final product.
Furthermore, the government in Egypt is planning to decrease its subsidy on bread, it is expected that the demand on the unsubsidized bread, that is produced using the private sector's flour, will increase, which will open new opportunities for private flour mills in Egypt. Despite the big competition in the Egyptian market, it is one of the promising markets.
RELY ON SOLAR ENERGY IN ITS MILLING FACILITIES
Is there anything you want to add and share our readers?
It is of a great importance for our group to contribute to our society while protecting the environment. With this big number of mills that we operate, we wanted to create sustainable business with clean, eco-friendly environment, so we decided to build a solar energy power plant in Jordan to provide our mills in the country with the needed clean energy supply without disturbing the environment. We have finished the power plant in 2019 with a capacity of 21 mw, to become the first investment group that fully rely on solar energy in its milling facilities.
Moreover, we own storage silos with a total storage capacity of 450,000 ton distributed among our mills, which helps us to store a significant amount of grains at all time. We at Al-Hazaa Investment Group are very proud of our portfolio and the achievements we made in the industry. But the journey is still at its beginning and we look forward to a better future, more is yet to come!
-------- Article source: https://www.millermagazine.com/english/al-hazaa-group-a-milling-giant-in-the-middle-east/.html ----