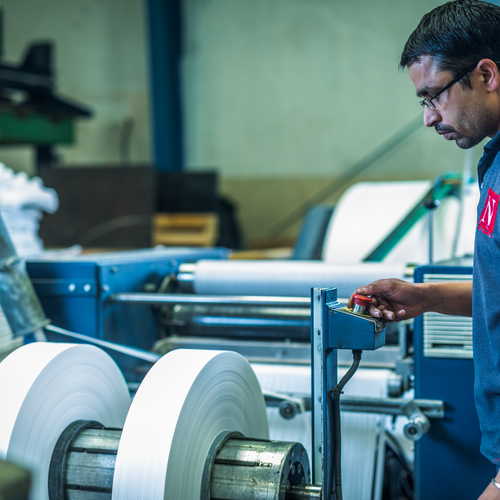 About
The New Plastic Industrial Company was established in 2005 and started production in mid 2006. It is one of the Al-Hazza Investment Group developed companies specializing in the manufacture of high-quality woven polypropylene bags using modern machines and equipment from Starlinger Company in Austria and raw materials from SABIC Company in Saudi Arabia. The company's factory was built on a 20 dunam area in Al Qastal Industrial Zone, south of Amman.
As part of its aspiration for excellence and improvement, the New Plastic Industrial Company has been developing the factory over the years by expanding it and adding more machines in order to produce different types of bags, such as AD star and Bopp, that come in various sizes, prints, and colors depending on their purpose and the packaged material, such as cement, phosphate, feeds, chemicals, sugar, rice, flour, and others.
The factory has a production capacity of around 150 million bags per year, including 40 million A.P.S bags and 20 million jumbo bags. The New Plastic Industrial Company distributes its products to 60 countries in several continents and covers 60% of the local Jordanian market demand and around 40% of the demand in the Middle East, especially in Iraq and Lebanon, and in Africa, Europe, and the United States. The company's goal is to expand the level of product distribution in order to reach global markets and serve its customers with high-quality products.
Certificates
Gallery