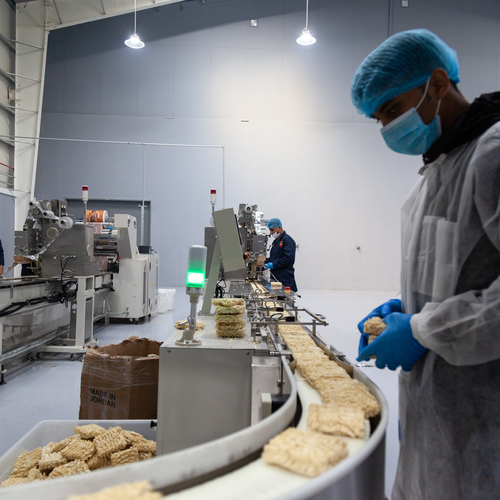 About
Halloumi Food Company was established in 2016 and is the essence of the Group's experience in the sector of flour and pasta. Mr. Jamal Al Hazaa, Chairman of the Board of Directors, decided to find new ideas that serve the food sector with its modern requirements to meet the global standards and demands.
Where the idea of establishing a plant serving this growing sector in the Middle East and the world came up, as the trend is going on to save time in preparing the meal and the demand for the instant fried noodles product has grown recently. So, in order to implement our vision of keeping up with market requirements and pioneering ideas, the decision was made to establish Halloumi Food Company.
The plant currently consists of two production lines, manufactured by the Swiss company Buhler AG. The factory operates according to Swiss technology and controls the entire plant through the WinCos system, designed specifically by Buhler AG to control the production step by step.
The first production line is dedicated to the production of noodles in bags with a capacity of 600,000 packs per day and the second line is dedicated to the production of cup noodles with a production capacity of 480,000 cups per day.
Noodles are produced by our Flour Mills at the highest quality standards.
Our Goals:
Providing our various products to all local and international markets.
Maintaining a consistent quality policy and applying the Group's vision of promoting the food industries sector.
Gallery