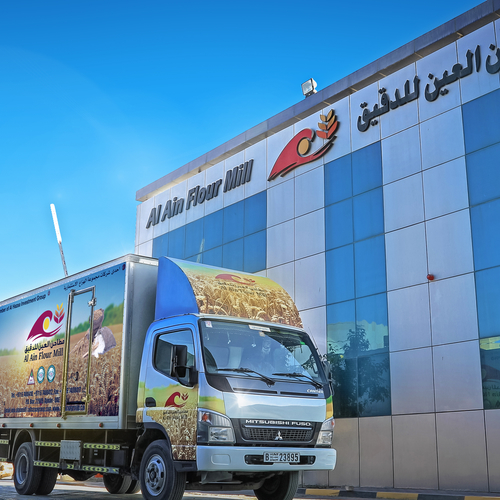 About
Al-Ain Flour Mill – Fujairah, previously known as Ocean Mills was established in 1996 in the United Arab Emirates and is fully equipped with high-tech Golfetto Sangati machines, it has a production capacity of 250 MT/ day and its storage capacity is 25,000 MT.
Al-Ain Flour Mill – Fujairah is located on the port of Fujairah in the United Arab Emirates, which is one of the most strategic ports in the UAE, because of its location near the Gulf Region, in addition to Africa and Asia. Furthermore, the port of Fujairah will be soon receiving and sending goods through train (Al Etihad Rail) which will connect Abu Dhabi to Port of Fujairah, and in the near future, it will be connected to GCC as well. Al-Hazaa Investment Group also has access to ship unloading terminal on the berth of the port of Fujairah with a draft of 15m giving it a strategic location on the Arab Sea, the unloading terminal is equipped with NEUERO equipment for loading and unloading grains at a capacity of 400 MT per hour.
Al-Ain Flour Mill Company manufactures the finest flour with the best expertise and by following the highest standards of safety. It became one of the best companies operating in the field of wheat flour in the UAE and the Gulf. This continuous development in Al-Ain Flour Mill Company has turned it into a strong, strategic, and reliable partner for many local, regional, and international companies.
The mill is specialized in the manufacturing of flour of all kinds, including whole wheat flour, soft flour, Chakki Atta, etc. Products of flour and wheat grain such as Harees are packed in a healthy way and in different weights, Al-Ain Flour Mill Company is proud to have more than one brand in local markets, such as Altahoona, and Harvest, products are sold in the entire Emirati market and are also exported to more than 10 countries in GCC, Iraq, Africa and Asia.
Excellence in Al-Ain Flour Mill has enabled the company to be classified by SGS Swiss and to gain several acknowledgments and certificates, such as FSSC 22000, ISO 9001, HACCP, and HALAL.
Certificates
Gallery